REEE 2019
REEE 2019 | Munich, Germany | August 19-22, 2019
REEE 2019 proceedings are published online. (Click) Indexed by Ei Compendex & Scopus already.
Thanks to the support of our chairs, technical program committee members, organizing committee members, authors and delegates, the conference can be held successfully and be raised for increasing concern year by year.
We are pleased to have accepted 58 presentations from all over the world. Around 70 scholars including presenters and listeners attended this conference over the world. The conference committee is also honored enough to invite 1 keynote speaker and 3 invited speakers to share their researches with us. They are Prof. Elmar Bollin from Offenburg University of Applied Sciences, Germany; Prof. Jin Su Jeong from Universidad de Extremadura, Spain, with the topic of Sustainable Development with MCDA-FDEMATEL Method: Prioritizing Criteria for Renewable Energy and its Application to Flipped Science Education; Prof. Jorge Loredo from University of Oviedo, Spain, with the topic of Valorisation of Mine Water for Low Enthalpy Geothermal Energy in the Framework of a Circular Economy, and Prof. Aurel Lunguleasa from Transilvania University of Brasov, Romania, with the topic of Energetic aspects of lignocelluloses biomass and its relationship with natural environment. We believe these talks will be of a great impression and a spark for all the conferences professionals in the field of renewable energy and environment engineering, and related fields.

We hope REEE can be better and better and can become the leading conference one day!
Group Photos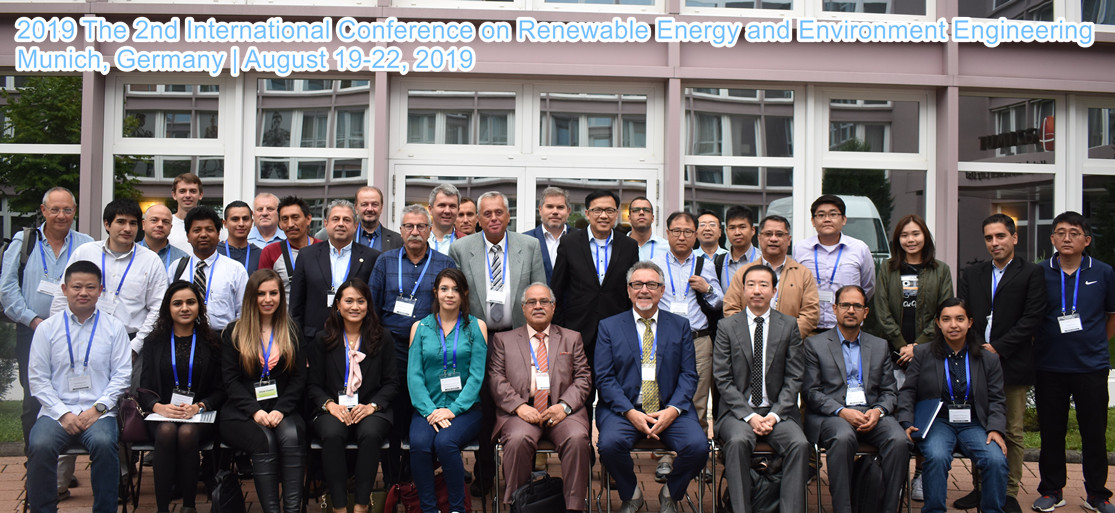 ---
Keynote Speakers
Prof. Elmar Bollin
Offenburg University of Applied Sciences, Germany
Speech Title: When Batteries Get Older - Antiaging of Batteries

Prof. Dr. Jin Su Jeong
Universidad de Extremadura, Spain
Speech Title: Sustainable Development with MCDA-FDEMATEL
Method: Prioritizing Criteria for Renewable Energy and its Application to Flipped Science Education

Prof. Dr. Jorge Loredo
University of Oviedo, Spain
Speech Title: Valorisation of Mine Water for Low Enthalpy Geothermal Energy in the Framework of a Circular Economy

Prof. Dr. Aurel Lunguleasa
Transilvania University of Brasov, Romania
Speech Title: Energetic Aspects of Lignocelluloses Biomass and its Relationship with Natural Environment
---
Best Presentation Winners
Session Ⅰ-- Environment Engineering
Study on the Performance of Finely Ground Recycled Concretes in Cementitious Pastes
Václav Nežerka
Czech Technical University, Czech Republic

Session Ⅱ -- Energy Science
Modeling and Thermal Analysis of a CCP Collector System Based on Fractal Architecture: Receiver Proposal
Angélica Palacios
Universidad Militar Nueva Granada, Colombia

Session Ⅲ -- Power System
Synthesis of Phosphorus Solution for n+ Si Selective Emitter Solar Cell by Spin on Doping
Thipwan Fangsuwannarak
Suranaree University of Technology, Thailand

Session Ⅳ -- Wind Energy System
Potential Assessment of Hybrid Pv-Wind Systems for Household Applications in Rural Areas: Case Study of Morocco
Lhoussaine Tenghiri
Al Akhawayn University, Morocco

Session Ⅴ-- Air Quality Assessment
Development of a Statistical Forecasting Model for PM2.5 In Macau based on Clustering of Backward Trajectories
Tong Xie
University of Macau, Macau

Session Ⅵ -- Material Science
Advanced Algorithmic Model for Poly-Optimization of Biomass Fuel Production from Separate Combustible Fractions Of Municipal Wastes as a Progress in Improving Energy Efficiency of Waste Utilization
Krzysztof Gaska
Silesian University of Technology, Poland